Acupuncture and Herb Clinic
Seasonal Notes
June, 2022
Doyo/Season of Change
Doyo refers to the time between seasons in Chinese Medicine. The beginning of the Summer Seasonal transition occurs during the first three weeks in June.
Elson M. Hass, M.D.
Staying Healthy with the Seasons
The Spleen/Pancreas energy facilitates our metabolic transition between seasons. As the weather begins to warm and the days to lengthen, so too must we adjust to change. This also means that the Spleen/Pancreas energy is weaker at this time because it is working so hard. As delights such as organic strawberries appear at our local market, the teaching of Dr. Vasant Ladd, founder of the Ayurvedic institute in Albuquerque, come to mind: "Strawberries, eat the alone or leave them alone." Eaten warm, they not only taste better, but are absorbed more thoroughly. At this time of year some raw foods can be added, but soups, cooked grains, legumes and hot tea are still on the menu!
Good News Briefs
Re-forestation projects are underway to plant 2 million seedlings to replenish devastating fires which resulted from last year's drought. Victor Tenerio, leader of a 9 person crew, work hard to plant 1,000 seedlings/day/worker. Tenerio's Mexican team fight fires in Summer and plant trees between fire seasons. They are here to help Oregon retain its service to Mother Earth. Oregon is a major carbon storage area stemming the tide of global warming. This win-win partnership between American Forests, The Oregon Department of Forestry and Tenerio's hardworking team are healing our planet on many levels. (The team sends money to Mexico to help their families. Another aspect of healing our planet!)
American Forests, Summer 2022
Friends of the Earth and other environmental groups are fighting devastating corporate greed by Procter and Gamble which is cutting down the boreal forest in Canada to make toilet paper. (Charmin products). P & G (Procter and Gamble) are also cutting down forests in Indonesia, violating local people's rights and land. This evil entity is connected with 220 deaths of forest defenders. BUT HERE IS THE GOOD NEWS:
Friends of the Earth and other environmental groups are taking strong action.

Trader Joe's Bath Tissue now uses 100% recycled paper for their toilet tissue.

When I put in an order for bamboo toilet paper for the clinic, I was amazed at the number of suppliers now selling bamboo tissue. The best tissue is also packaged without plastic.
It is a fantastic year for pollinators and flowers! Inspired by "The Bee-Friendly Garden" by Kate Fry and Gretchen LeBuhn, and the PBC Nature presentation "My Garden of a Thousand Bees," I began to explore the world beneath my feet. Tiny bees, some only 0.1 inches long and a variety of other bees and pollinators were a joy to behold. So that is why those tiny flowers appear in the "lawn." Frey and LeBuhn also inspired me to extend my flower garden which is happiness on many levels!
"Save My Skin" campaign by PETA is fighting the horrific leather and fur industries. Their investigations have pictures showing dogs being tortured and still living for 10 minute after being skinned. Their campaign is global. But here in America, some people have lost their dogs to this industry. Not only did I send them a donation, but vowed never to by a nice pair of leather gloves now that I know the suffering of innocent dogs to obtain this "soft leather". WE ARE FORTUNATE TO HAVE ENVIRONMENTAL GROUPS MAKING POSITIVE CHANGES ON OUR PLANET!
Healthy Hummers!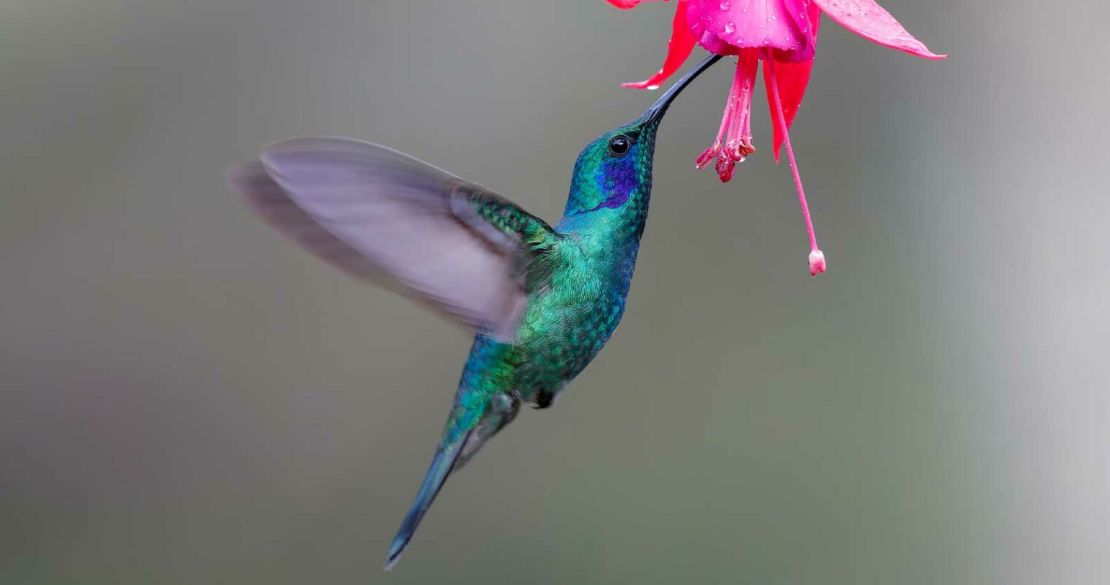 Many of us know the joys of feeding humming birds. This year I was delighted to observe a lady hummingbird, obviously "with egg" feeding on a patch of columbine beneath my window. Another morning found her feasting on the nectar of a very bountiful red clover flower plant. Needless to say, the natural nectar from flowers is healthier than sugar water.
But I also discovered a recipe which comes as close as possible to the nutrient-rich food offered by flowers. It is based on the work of visionary Rudolph Steiner:
Hummer Organic Sugar Nectar
1 cup of organic cane sugar. (Bulk section Farmer's Market or in large bags from Azure Standard.) The sugar should be slightly amber in color. Some stores sell organic sugar made from sugar beets, but this is an inferior source of minerals. Only the best for our tiny little friends!

¼ teaspoon of Himalayan pink salt.

4 cups of boiling water.
Measure the sugar and salt and mix with a fork or whisk. Add the boiling water to dissolve the sugar and salt. Cover with a plate and allow to cool. Store in a glass quart jar for your feeders. Refrigerate if it will not be used in the next few hours.
Here Comes the Sun Omelet Plus
2 eggs (chicken, duck, etc.), preferably fresh from our Saturday market.

¼ to ½ teaspoon of ground turmeric. (bulk section Farmer's Market)

organic butter or coconut oil.

Fresh onions, sliced thinly or chopped

1 or more cloves of organic garlic.

1 shitake mushroom or other fungus of your choice.

Chopped and minced parsley

Himalayan salt and Paprika

A nice bunch of fresh Broccoli!

Tea
Crack egg shells and whisk the eggs with turmeric. Set aside.
Cut broccoli into reasonable pieces and place in steamer. Begin to cook.
Sauté onions, garlic and mushrooms over moderate heat in a well-oiled pan.
Gently add the egg mixture.
Cover and let cook slowly while you put the kettle on to brew tea.
When the omelet is cooked, fold over carefully. /Garnish with finely chopped parsley.
Season with paprika and Himalayan salt to taste.
Serve with steamed broccoli and your favorite tea.
Go with the Flow
Warmer and longer days invite us to spend more time out of doors. Yes! Activity levels should be greater in the warmer weather. But you may also wish to take a siesta when it is too hot for you or you are very tired. In hot climates, many people divide the long days into morning and evening work periods with a rest period between.
Reading, napping, or other gentle activities are in order! Occasionally, you may wish to watch something mellow. My pick for this issue of Harmony is The Elephant and the Termite. This is a PBS Nature production. It is beautifully filmed and softly narrated. It tells an incredible story of life in Kenya and the relationship between elephants and termites and how this effects all other life in a place where drought comes annually. I would give this production 5 stars and thumbs up! You will feel good watching the beauty and potential of nature unfold before your eyes.
The care I have received at Ráven's clinic has made an almost unbearable situation bearable and allowed me to hold a job and continue on with my life. She and her staff work with you at any time you need them. They are amazing.
Frances Cole